AKADEMIA
AMERICAN RUSH 2: CHICAGO 2019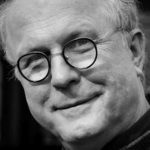 Prowadzący
Tomasz Tomaszewski
Maks. liczba uczestników
10
Pod tym symbolicznym hasłem chciałbym zaproponować serię wyjazdowych warsztatów fotograficznych do USA . Zapraszam na nie również tych z Państwa, którzy mówią po angielsku, gdyż zajęcia będą prowadzone równolegle w dwóch językach; polskim i angielskim.
Złożą się na nie miejsca gwarantujące różnorodność, wizualnie bardzo atrakcyjne, a jednocześnie takie, w których  będziemy mogli bez trudu fotografować ludzi zaangażowanych w barwne wydarzenia.
Pierwszym miejscem, które wybrałem i do którego udaliśmy się z grupą osób, entuzjastów fotografii aby wspólnie podbić to wyjątkowe miejsce, było osławione Las Vegas. Relację z tego wydarzenia możecie obejrzeć na podstronie "Przegląd talentów", do czego serdecznie zapraszam. Bo warto!
Tym razem zapraszam na:
American Rush. Epizod 2: Chicago 2019
Uwaga: Zmiana terminu. Nowy termin zostanie podany wkrótce
Chicago to jedno z najpiękniejszych miast Ameryki. Wody jeziora Michigan, które kanałami wpływają do tej trzeciej co do wielkości metropolii USA, podkreślają elegancję nowoczesnej architektury niosąc jednocześnie echo muzyki, dochodzącej z niepoliczalnej ilości jazzowych klubów. Do tego właśnie magicznego miasta, znanego również ze swojej barwnej historii okresu prohibicji, chciałbym zaprosić na niezwykłą, fotograficzną przygodę.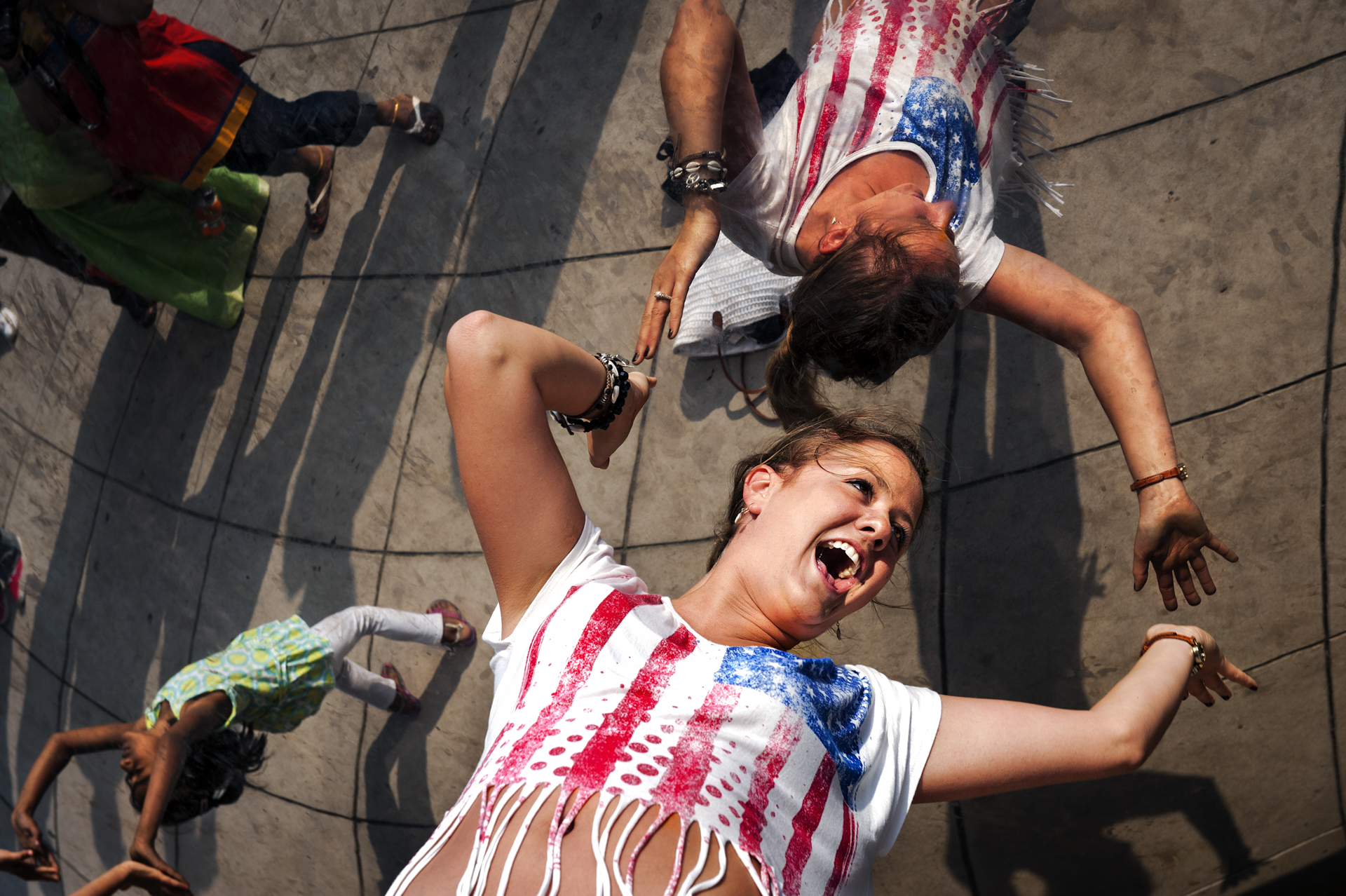 Szczegółowy opis warsztatów oraz warunki i wymagany przepisami regulamin, znajdziecie Państwo poniżej.
Chicago to druga odsłona American Rush – cyklu warsztatów mających na celu zgromadzenie portfolio dotyczącego USA. Liczę bardzo na obecność przyjaciół, którzy odbyli wcześniej podobne warsztaty, a nowych znajomych nieśmiało namawiam, aby zrobili sobie z tych warsztatów zasłużony, osobisty prezent.
Serdecznie, TT
SZCZEGÓŁY WYJAZDU
Co nas czeka w trakcie wyjazdu – program
Głównym motywem wyjazdu jest wyjątkowa uroczystość, jaką jest parada w dniu Święta Weteranów (Memorial's Day). Obchodzony w ostatni poniedziałek maja Dzień Pamięci to święto federalne, upamiętniające Amerykanów i Amerykanki, którzy polegli w czasie służby wojskowej dla kraju. Od wielu lat amerykańskie miasta czczą pamięć poległych organizując parady, w których biorą udział przedstawiciele armii oraz członkowie organizacji na rzecz weteranów. Największe uroczystości odbywają się w Chicago, Nowym Jorku oraz Waszyngtonie.
Ramowy program warsztatów obejmuje (opisy w języku angielskim):
Warsztat 1. Przygotowanie do parady Święta Weteranów
Warsztat 2. Parada i uroczystości związane ze Świętem Weteranów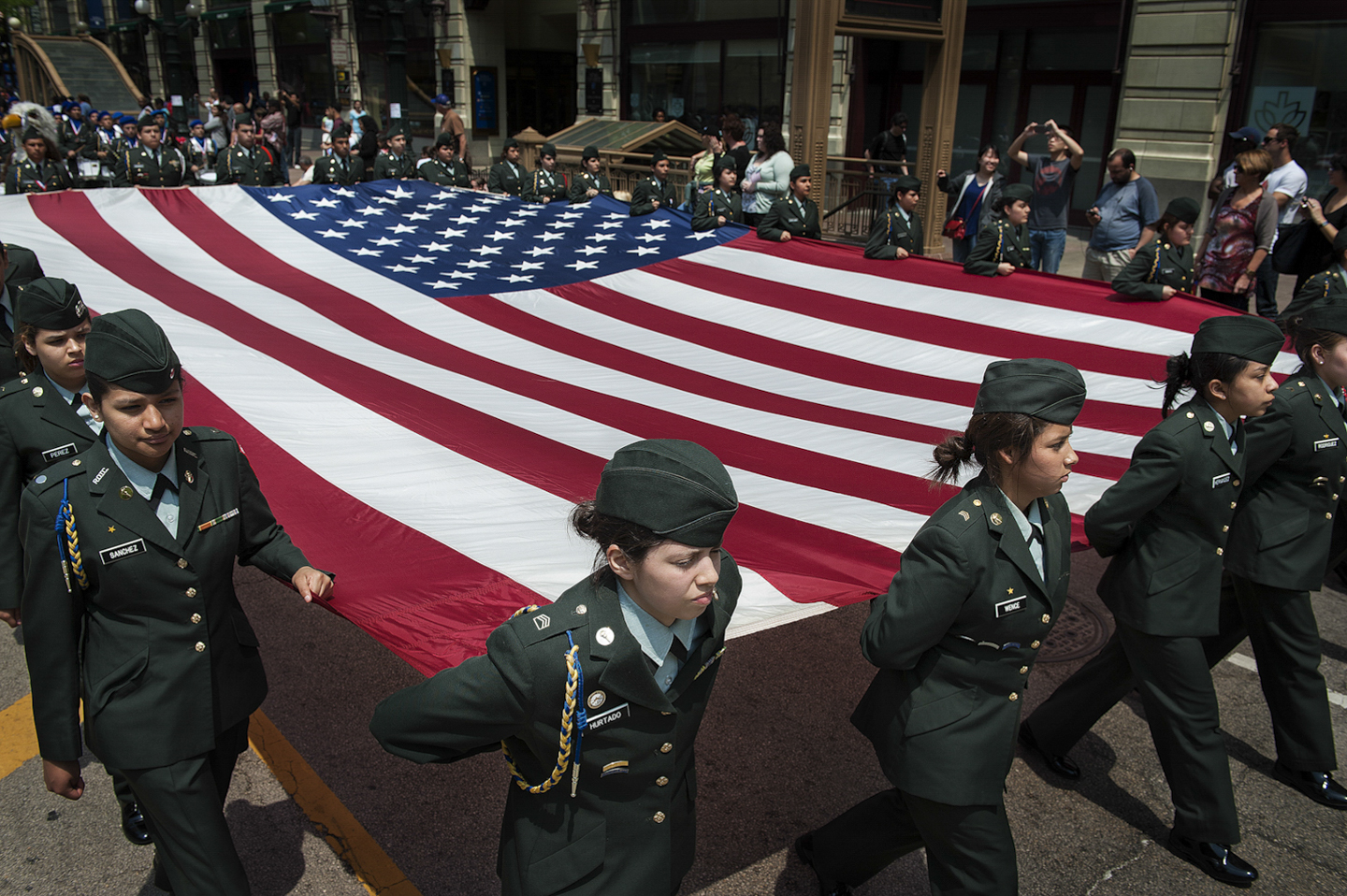 Warsztat 3A Milennium Park
This 24.5-acre park might be one of the most popular gathering spots in the city, known for its free concerts, famous public art installations and its proximity to the Loop. The centerpiece of Millennium Park is the Jay Pritzker Pavilion, a flowing Frank Gehry-designed structure that hosts of the city's biggest outdoor festivals and concerts. You'll also find the serene Lurie Garden, al fresco dining destination the Park Grill and pedestrian bridges that lead to the Art Institute and Maggie Daley Park. Welcome to the hub of Chicago's front yard. Enjoy a (permanent) outdoor gallery Few works of public art are more iconic than Anish Kapoor's Cloud Gate (a.k.a. "The Bean"), a reflective sculpture that is nearly always surrounded by visitors snapping pictures. Elsewhere in Millennium Park, you'll find Jaume Plensa's Crown Fountain, which features two screens depicting an ever-changing array of locals' faces spewing water every five minutes in the summer months. Warm weather also marks the return of public art exhibitions on the Chase Promenades, where you'll find large scale work from contemporary artists. Take in a free outdoor show There's no more quintessential Chicago experience than a picnic dinner on the lawn of the Pritzker Pavilion during a free concert at the outdoor venue. When the weather warms up, the Millennium Park Summer Concert Series brings rock, jazz and world music acts to the stage—no admission required. The venue also hosts annual events such as the Chicago Blues Festival, the Chicago Jazz Festival and the Grant Park Music Festival. Stop by during the afternoon and you might find an orchestra rehearsing on the spacious stage.)
Warsztat 3B. Navy Pier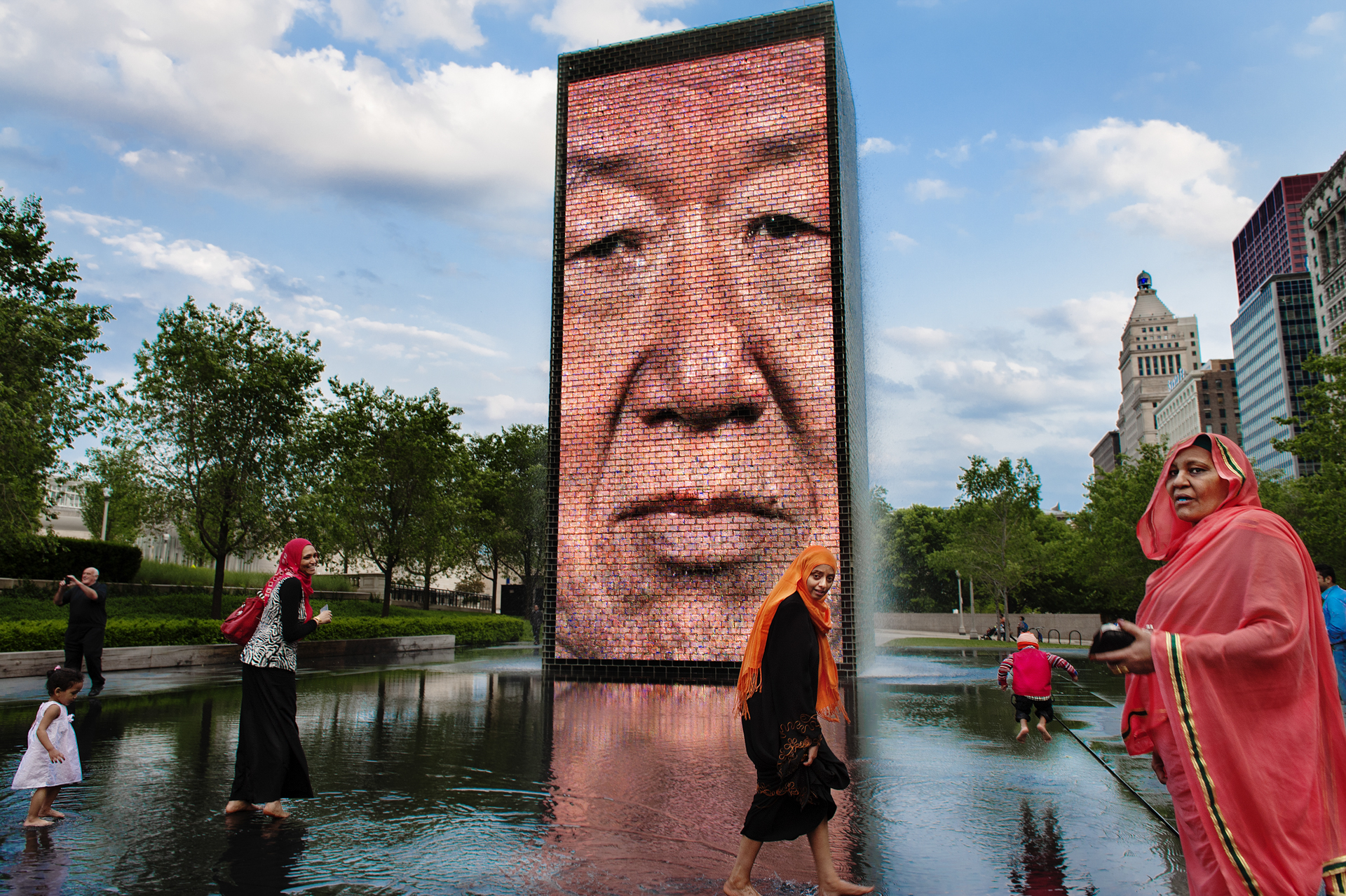 This tourist hot spot features shops, eateries, an IMAX cinema and a bevy of sightseeing boat tours. Pier Park is home to a 200-foot-high Ferris wheel, a beer garden and public art exhibitions galore. You'll also find the Chicago Children's Museum, Chicago Shakespeare Theater and a rotating roster of live entertainment on the Family Pavilion Stage. Most offerings may not turn locals on, but the seasonal events, indoor activities and great people-watching provide plenty of entertainment, no matter what the weather. Plenty to eat and drink You may not think of Navy Pier as an obvious foodie destination, but the tourist mecca boasts some legit eats including Big City Chicken, DMK Burger and Fish Bar, Goddess and the Baker, the Original Rainbow Cone, Snow Dragon Shavery and many more. Guests who are 21 and over are allowed to take their boozy beverages to go while they walk around the Pier, and several restaurants even offer take-out windows with food and drink options. See a show Whether you have the kids in tow or are looking to entertain adult visitors, there's entertainment for everyone at Navy Pier. The little ones will get a kick out of the Chicago Children's Museum, which boasts a water playground, DIY spaces and educational exhibits. Chicago Shakespeare Theater offers exceptional renditions of the classics and new works fit for the whole family. To get your fix of live music with an ice-cold brew in hand, look no further than that Miller Lite Beer Garden, which offers a summer music and dance series throughout the warmer months.
Warsztat 4. Chicago Riverwalk
If you're looking for breathtaking views of some of Chicago's most gorgeous architecture, take a stroll along the Riverwalk, which hugs the main branch of the Chicago River and provides a continuous walkway with restaurants, bars and urban attractions at every turn. Clever design features throughout offer areas to lounge around and enjoy the city from a stellar angle. Dine and drink the day away Whether you have out-of-towners in tow or you're just trying to spend some time near the water, the Riverwalk is the perfect place to grab a bite for lunch or dinner. A heavy helping of casual bars doesn't hurt matters either. Start the afternoon with a glass of vino at City Winery, where you'll find a curated selection of by-the-glass pours and small bites, such as burrata, dolmades, cheese plates and cured meats. Cocktail enthusiasts will find refuge at Tiny Tapp & Cafe, where sliders and craft beverages are on tap. When it's time to call it quits, hit up Frost Gelato for a sweet, icy treat. Get out on the water Of course, when you're this close to the river, there are plenty of ways to get your sea legs. Hop on any number of boat cruises to take in the skyline and Chicago's gorgeous architecture from a different vantage point. For a budget-friendly option, grab a seat on the Chicago Water Taxi, which docks at seven different locations around the city, including one at Clark Street along the Riverwalk. Lounge around But you don't have to spend a dime to really enjoy the Riverwalk. The sprawling urban walkway is dotted with grassy areas, concrete stadium seating and architectural treasures. Plus, you can take in live music at various venues just about every night of the week.
Warsztat 5. Chicago Crime and Mob Tour
Explore Chicago's gangster past on this 1.5-hour mafia tour in a coach vehicle. Drive around the Windy City to see where Al Capone, The Untouchables, Hymie Weiss, and John Dillinger, among other thugs hung out. A history-savvy guide introduces you to some of the most storied locations of Chicago's criminal past, including Holy Name Cathedral, Biography Theatre, and the site of the bloody St. Valentine's Day Massacre. You'll be able to get out and pose for pictures in front of a historic courthouse, among other infamous sites. Chicago crime tour by luxury air-conditioned coach Explore Chicago's most storied crime-related areas in the Gold Coast, Lincoln Park, Old Town, the Loop and Magnificent Mile Hear stories about Chicago's most notorious criminals and mobsters including Al Capone and John Dillinger Witness the sites of history's most infamous crime scenes including the St Valentine's Day Massacre Hop off to explore some places by foot with your guide
Warsztat 6. Jazz Clubs & Bars of Chicago
Warsztat 7. Willis Tower Skydeck
This 1973 landmark put the city in an uproar when insurance broker Willis Group Holdings Ltd acquired the Sears Tower naming rights in 2009. That doesn't change the fact that the building occupies two city blocks and stretches 1,454 feet high, making it the second tallest building in the U.S. Epic views If you're looking to see more of Chicago than you'd be able to take in on a walking tour, the Skydeck is your best bet. Views from the 103rd floor are expansive, allowing guests to see up to four states and 50 miles out. While you're up there, learn about the city's landmarks from a multilingual computer program and about its history from wall exhibits. The best times to visit are just after opening and at sunset, when you'll be able to look out at the glassy skyscrapers' sparkly lights against the night sky. Go out on the Ledge Of course, if you've made it this far, you might as well experience the Skydeck's main attraction, the Ledge. Glass boxes hang out over the building's 103rd floor, offering a slightly terrifying experience and even better views from 1,353 feet off the ground. It's a thrilling experience that will delight the tourists and out-of-town parents and kiddos in your group. Date night delight For visiting romantics, the Skydeck offers a convenient date night options. Located walking distance from Union Station and Ogilvie Transportation Center, the attraction stays open until 8pm October through February and until 10pm March through September. Check out the stars and snap a photo with the skyline before heading out to a nearby neighborhood for dinner.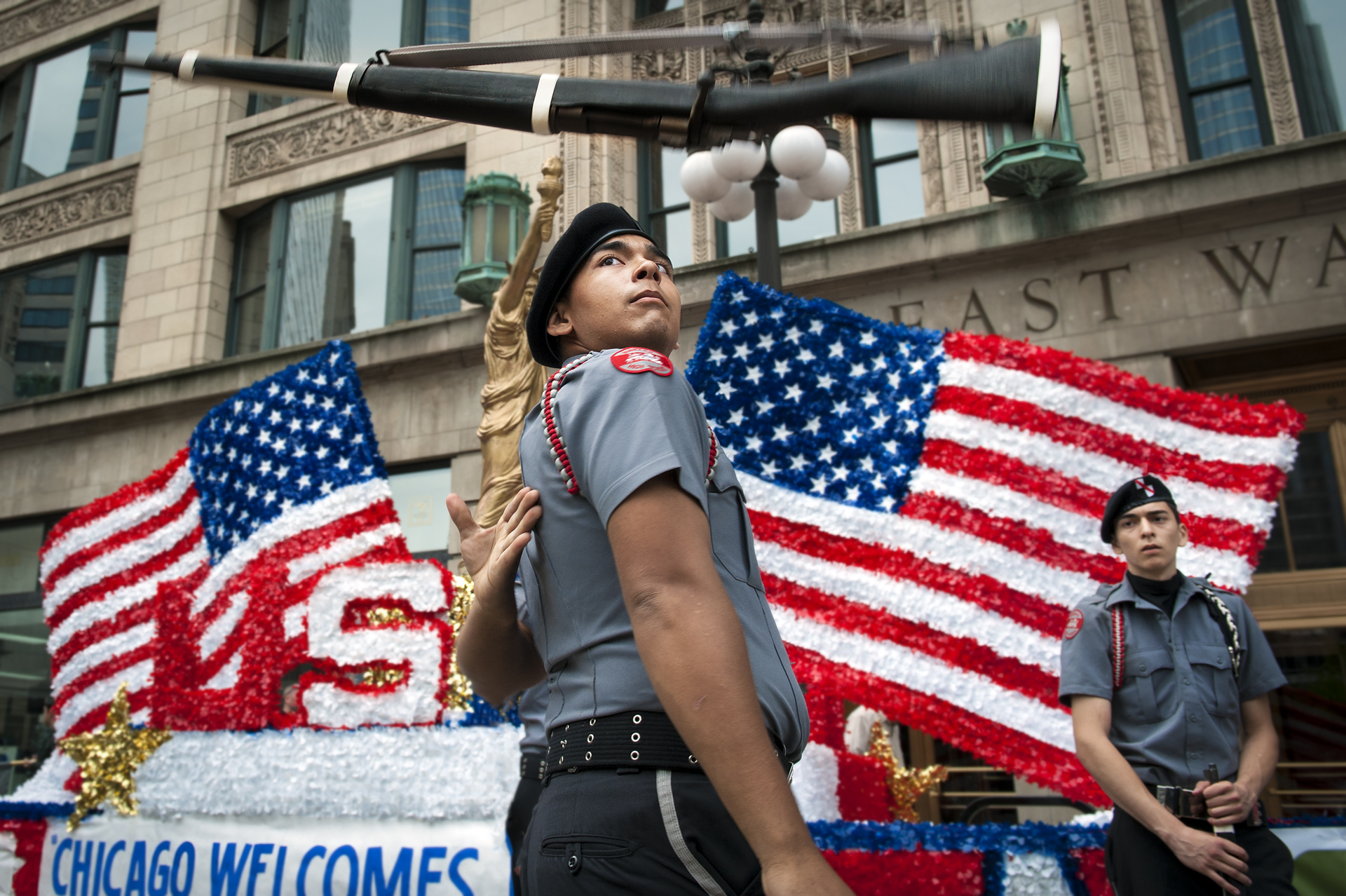 Regulamin i Ogólne Warunki uczestnictwa w Warsztatach
Termin Warsztatów: 25-31 maja 2019
Zgłoszenia należy dokonać w formie pisemnej, na adres emailowy academy@tomasztomaszewski.com. Do zgłoszenia należy dołączyć potwierdzenie opłacenia zaliczki w wysokości 1500 zł. Zgłoszenie jest ważne wyłącznie z dołączonym potwierdzeniem wpłaty zaliczki.
Warunki finansowe: cena 5999 zł +23%VAT = 7378,77zł (obowiązuje rabat 10% dla uczestników pierwszej edycji American Rush – Las Vegas 2018), w tym zaliczka w wysokości 1500 zł; zaliczka płatna w terminie 7 dni kalendarzowych (liczy się data wpływu środków na konto Organizatora) od dokonania zgłoszenia, na konto:
PEKAO SA 92 1240 1109 1111 0010 8391 8929
Brak wpłaty zaliczki w wymaganym terminie jest jednoznaczny z rezygnacją z wyjazdu i powoduje zwolnienie zarezerwowanego miejsca.
Decyduje kolejność zgłoszeń.
Pozostałą kwotę 5878,77 zł należy wpłacić na powyższe konto do dnia 28.02.2019.
Przelot z Polski do Chicago oraz rezerwacja noclegów odbywa się we własnym zakresie.
Do 31 stycznia 2019 Organizator poinformuje o miejscu odbywania się części teoretycznej Warsztatów.
Liczba uczestników: maksymalnie 10 osób, wszystkie powyżej 24 roku życia. Decyduje kolejność składania zgłoszeń.
Termin nadsyłania zgłoszeń mija ostatecznie 31.03.2019
Uwaga!  Dla zgłoszeń dokonanych do dnia 04.01.2019 obowiązuje cena promocyjna 5 499 zł + VAT! (obowiązuje rabat 550 zł + VAT dla uczestników pierwszej edycji American Rush – Las Vegas 2018)
Co obejmuje cena?
Powitalny lunch w pierwszym dniu Warsztatów.
Sześć pełnych dni warsztatowych. Dni warsztatowe podzielone są na 2 części: poranna lub wieczorna analiza zdjęć wykonanych dnia poprzedniego (zaczniemy już wieczornym spacerem w dniu przyjazdu oraz część praktyczna).
W ramach części praktycznej minimum 3-godzinny indywidualny warsztat z każdym z uczestników w trakcie trwania Warsztatów.
Edycja 10-zdjęciowego materiału i jego publikacja na oficjalnej stronie akademii TOMASZEWSKI PHOTOACADEMY
Sygnowane podpisem autora zdjęcie z limitowanej, kolekcjonerskiej serii 15 egzemplarzy, wykonane przez Tomasza Tomaszewskiego w trakcie warsztatów.
Prezentacja multimedialna wyselekcjonowanych zdjęć wszystkich uczestników warsztatów.
Dla wszystkich uczestników przewidziano także 10% rabat na kolejne edycje warsztatów w ramach cyklu American Rush.
DODATKOWE USTALENIA:
Organizator zastrzega sobie prawo do odwołania Warsztatów bez podania przyczyny, w terminie do 03.04.2019. W takim przypadku wszelkie zaliczki oraz uiszczone wpłaty podlegają pełnemu zwrotowi. W przypadku odwołania Warsztatów każdy z uczestników zostanie powiadomiony indywidualnie w dniu, w którym Organizator dokona odwołania Warsztatów.
Uczestnik może zrezygnować z uczestnictwa w Warsztatach na następujących zasadach:

Rezygnacja ma formę mailową i jest wysłana na adres: academy@tomasztomaszewski.com
W przypadku rezygnacji do 31.01.2019 Organizator dokona zwrotu pełnych wpłaconych kwot
W przypadku rezygnacji po 31.01.2019 lecz przed 28.02.2019 Organizator dokona zwrotu 50% wpłaconych kwot.
W przypadku rezygnacji po 28.02.2019 wpłaty nie podlegają zwrotowi.
W każdym z przypadków rezygnacji, kwota zwrotu podlega zmniejszeniu o ewentualne koszty przekazu/przelewu zwrotnego.
Jaki sprzęt należy zabrać:
Aparat, którego obsługa jest dobrze znana i obiektywy od 24mm do 200mm
Statyw fotograficzny, mały przenośny flash, zapas kart.
Komputer z wgranym programem Lightroom, lub innym służącym do wywoływania Raw.
Dysk zewnętrzny.
American Rush Epizod 2. Chicago 2019
25-31 maja 2019
Chicago, United States of America
5 999,00 złDodaj do koszyka